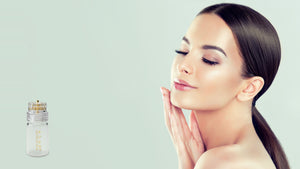 Clean Radiance. Absolutely.
Now you can get the powerful effects of microchannel at home with the A.S.A.P™ Micro Infusion System combined with the rejuevenating effects of our SKINWORKOUT® serums.
SHOP NOW
Your at home complete SKINWORKOUT® solution.
It all starts with the A.S.A.P.!™ (Advanced Skin Application Platform™) Micro Infusion System, an advanced serum applicator. The A.S.A.P.!™ applicator features twenty surgical-grade stainless steel microchannels each plated with 24K gold. It is designed to infuse our specialized serums directly onto your skin. A.S.A.P.!™ is safe, sterilized and easy to use.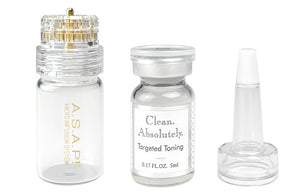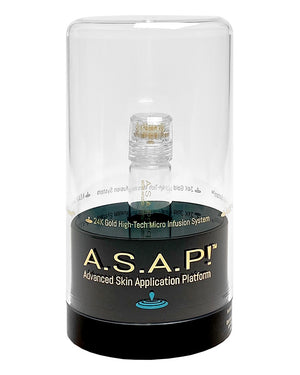 A.S.A.P.!™ is designed to work with our SKINWORKOUT® program of specially formulated pharmaceutical grade pure sterilized hyaluronic acids and proprietary compounds to support your skin health. The SKINWORKOUT® program is designed as in-home skin health routine between in-office AQUAGOLD® fine touch™ treatments. SKINWORKOUT® will keep your skin bright and radiant until your next appointment. The program features two specially formulated skin health serums, U.R. (Ultimate Radiance) and T.T. (Targeted Toning).
U.R. is a high-performance sterilized serum with the purest hyaluronic acid, PDRN, and growth factors. It's a rejuvenating blend that treats signs of aging and helps to regenerate damaged skin.
T.T. is an intensely hydrating sterilized serum with the purest hyaluronic acid, Glutathione, Niacinamide, and Tranexamic Acid. This gentle yet effective serum helps even out skin tones, brightens skin and reduces inflammation. Glutathione prevents dark spots and brightens the skin. Niacinamide helps with skin brightening and the enhancement of skin tone to even out your complexion. Tranexamic Acid is a nice treatment for freckling.
Click here to try the full SKINWORKOUT® program with this special deal.